Beauty & Self
Books & Music
Career
Computers
Education
Family
Food & Wine
Health & Fitness
Hobbies & Crafts
Home & Garden
Money
News & Politics
Relationships
Religion & Spirituality
Sports
Travel & Culture
TV & Movies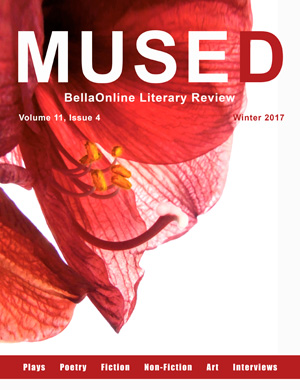 We all travel on this blue-green ball around our very own star each year, sliding a little closer, sliding a bit further away. The balance is critical. Too much closer and we'd roast. Too much further away and we'd freeze.

We should be aware of just how blessed we are that our Earth is "just right" - and do what we can to keep our world healthy. It's the only one we have.

Enjoy the Mused Winter Solstice 2017 Issue



Travel Hints For Keeping Track Of Luggage
Senior Travel - Hazel M. Freeman, Editor

Here are some precautions you can take to help minimize the anguish of not seeing your bag revolve around the baggage carousel at the end of your trip.




The Way of Holiness
Christian Living - Lynne Chapman, Editor

A highway straight into God's holy city.




Florida National Cemetery
Florida - Georgiana Kurtz, Editor

Florida National Cemetery, located near Bushnell, is worth a visit, even if you don't have a loved one buried there, as a way to pay tribute to those who have served in the U.S. Armed Forces. It is a place of peace and beauty.




Optimal AMH For Ovulation Induction
Infertility - Hannah Calef, Editor

Having a high AMH may reduce the chances of responding to ovulation induction




Golden Russet Apple
Landscaping - Connie Krochmal, Editor

The golden russet apple is one of the best known russet apples in America. It has long been a favorite.




Bathrooms, Buses and Elevator Doors
Etiquette - Lisa Plancich, Editor

A surefire way to irritate the person or people on the other side of the door is your failure to yield.


| Google+ |
E D I T O R R E C O M M E N D E D
How to Write Descriptions of Eyes and Faces


by Val Kovalin, your BellaOnline editor for the Fiction Writing site. Learn to describe the appearance of the eyes, actions involving the eyes, and how to describe eyelids, eyebrows, and eyelashes. More than 2,000 words explaining 82 color names to assign to eyes. Facial shapes, forehead, ears, cheekbones, nose, lips, chin, and facial hair. Learn how the face shows different emotions, and more!
Low Carb - First Two Weeks


Get instant access to step by step instructions, handy tips to get you through the rough spots, background information on low carb dieting, and more.